Project Overview
Go-n-Sail is an RYA approved Sailing School based on the Southern coast of Spain. They offer RYA approved courses to individuals, families, and small groups.
Go-n-Sail approached us to discuss their ongoing website requirements. Their existing website was outdated, slow to load, and needed a look to match their tag line 'Learn To Sail In The Sun'. They also wanted to take advantage of their outstanding TripAdvisor reviews.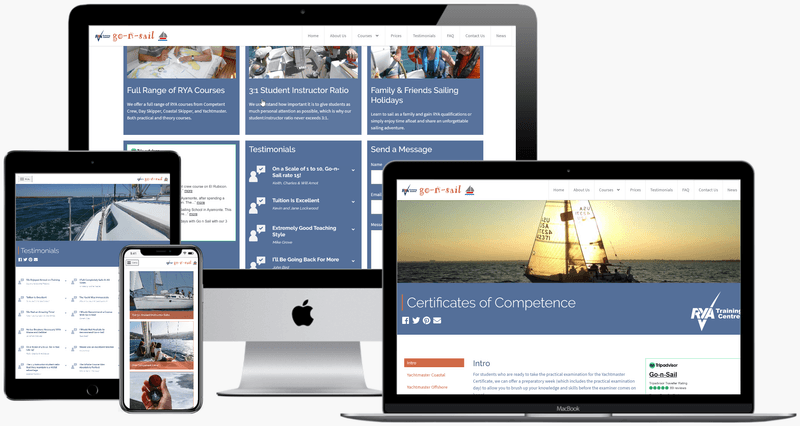 The Technical Challenge
The old WordPress interface was hard to use and easy to change the wrong setting. So we moved the client from WordPress to a custom CMS. The interface is now very easy to use and the client has full control over the content.
Next was the page load speed problem. We took this opportunity to move the website to a Content Delivery Network (CDN).A CDN refers to a group of geographically distributed servers that work together to provide fast delivery of content. This allows the website to load fast no matter what country or connection your customers use.
Leveraging the TripAdvisor reviews was a straight forward exercise. We incorporated a feed from TripAdvisor on every page. We also added a weather widget that shows local information about Go-n-Sail's home port.
Outcome
The page load time has dropped from 7 seconds to 2.3 seconds.
The client finds the CMS much easier to use.
Google ranking has improved with first page results for key search terms.
A Huge Improvement - Thanks!

Datum Digital did a great job. Not only did they incorporate all of our requirements, we found that the pages loaded significantly faster than the old site. Keeping the content updated, making changes and adding News Items, is now a breeze."
Debbie & Shane - Owners of Go-n-Sail