Project Overview
NikoTrack USA are the North American distributor of the world leading overhead conveyor systems produced by Niko in Greece.They approached us to discuss how they could move their WordPress site onto a new platform and out perform their competitors.
The majority of NikoTrack sale leads come from contact forms on their website. So it was important that these contact forms are easy to find and use. For that to happen, a quick loading site that ranks high in Google is important.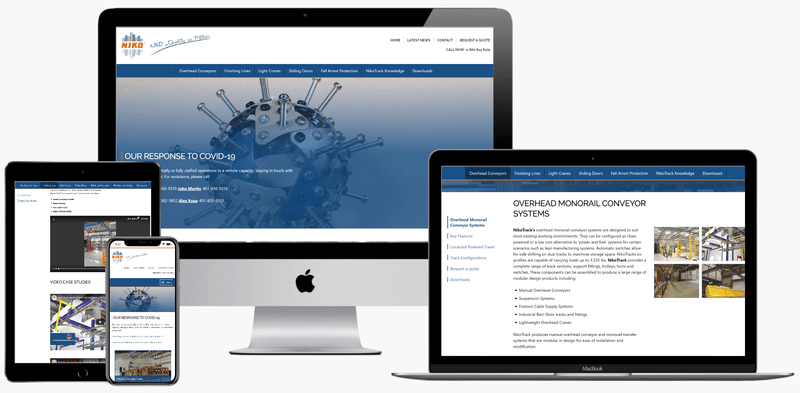 The Technical Challenge
After identifying NikoTrack's competitors, we carried out site audits to see how they performed. The results were a mixed bag ranging from awful to average. The old NikoTrack WordPress site was at the average end of the scale.NikoTrack's existing content was OK, but needed some work on keywords and phrases to improve the SEO and ranking.
The new site also required the use of the same colour scheme and design attributes of the main Niko.eu.com website.
All the work required was completed by the Datum Digital team.
A New Website To Outperform The Competition
We moved the current NikoTrack site to a new CMS tailored to their business requirements. The site was delivered using a super fast CDN (Content Delivery Network). The results are outstanding: A Chrome Lighthouse audit confirms the following:
Performance - 100%
Accessibility - 100%
Best Practices - 100%
SEO - 100%
Progressive Web Application - Maximum score.
Audits showed that nikotrack.com outperforms the competition by a clear margin.
The Best Possible Performance

We are so pleased that our website now outperforms all of our competitors. This has given us the edge in connecting with new potential customers as we now rank much higher on Google than we ever did. Thanks to the team at Datum Digital!"
Mike Chapman - CEO - NikoTrack LLC